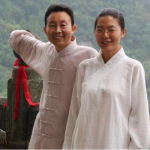 Masters Lu Zheng Dao and Wang Lin visited New Zealand early 2018. They took a live-in retreat in Auckland, followed by workshops in Wellington, Christchurch and again in Auckland. All were hugely appreciated by those who took part.
Due to covid-19, Lu and Ling were unable to return to New Zealand in February 2020. Instead they joined the workshop by Zoom (onto a large screen) to very successfully take the afternoon sessions.
Master Lu was a fellow student of Master Wei Qi Feng in the two-year Teacher Training at Huaxia, 1993-1995. Master Wang Lin (Ling) also graduated from the two-year class, in 1997. The couple have taught extensively in Europe and the United Kingdom for a number of years, and more recently in Canada. They have also taught in Harmonious Big Family three-month teacher training and healing retreats in China. Master Lu's teaching on Zhineng Qigong healing has greatly impressed students studying in China and in his European workshops. Students equally love the combination of lightness and depth Master Ling brings to her classes.
Note that due to covid-19 there has been no teaching by Masters Lu and Ling in recent years.