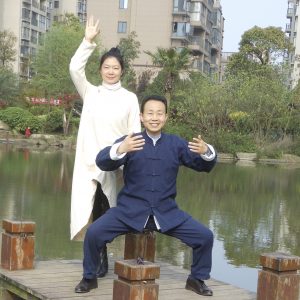 Participants in the visit of Masters Lu Zheng Dao and Wang Ling two years ago are delighted to know of their return to New Zealand. People loved their Auckland retreat and their workshops in Wellington, Christchurch and Auckland. Fortunately for us Ling and Lu enjoyed being with New Zealanders – and they revelled in our natural environment and wish to see more of our beautiful landscapes. This year they will also hold a workshop in Dunedin!
Ling and Lu 2020:
Five-day workshop in Wellington: Friday 28 February to Tuesday 3 March
Weekend workshop in Dunedin: Friday evening 6 March to Sunday 8 March
Five-day retreat in Christchurch: Friday 13 to Tuesday 17 March
Auckland four-day workshop: Friday 21 to Monday 24 February
Ling and Lu both graduated from the in-depth two-year Teacher Training in China many years ago. They have worked together ever since, and the sum of the two together is greater than each separately. They have the ability to cover many different aspects and elements of Zhineng Qigong theory and practice.
Practitioners have been especially fortunate we had two Chinese Masters visit in 2019. Both offered new insights and experiences, and response to both was overwhelmingly positive. Master Zhen held workshops in Wellington and Auckland, while Master Xi's were in Christchurch and Wellington. We cannot take for granted that such high-level teachers will wish to return, or even choose to come here in the first place. We hope Ling and Lu's visit will encourage them, and others, to continue bringing us the benefit of their precious Zhineng Qigong knowledge and experience.
We have received Acupuncture New Zealand approval of 30 CPD hours for our Wellington workshop, as with Ling and Lu's 2018 visit.
Read more and register at https://qigongtrust.org.nz/wellington-workshop/
Find out about the Christchurch Retreat